Eleventh Applied Antineutrino Physics workshop to be hosted by Virginia Tech
The Center for Neutrino Physics will be hosting the eleventh Applied Antineutrino Physics workshop December 7-8, 2015, at the Virginia Tech Research Center in Arlington, Virginia. CNP faculty member Patrick Huber will be chairing the local organizing committee. This annual conference is focused on the applications of neutrinos in fields such as nuclear non-proliferation and geophysics. Past conferences have been held in Paris (2014), Seoul (2013), Hawaii (2012, 2005 and 2004), Vienna (2011), Sendai (2010), Angra, Brazil (2009), Paris (2007), and Livermore, CA (2006).
The Virginia Tech Research Center
in Arlington is unique in that it is close to government agencies such as DOE, NSF, DARPA, and ONR. Participation at the conference will be limited to approximately 60. For more information, please email
aap2015@phys.vt.edu.
Virginia Tech Approved as the Site of the Newest QuarkNet Center
As of December 2014, the Center for Neutrino Physics is now the home of the Virginia Tech QuarkNet Center. QuarkNet is an outreach program run by the University of Notre Dame and funded by the National Science Foundation, which is aimed at helping high school teachers gain a deeper understanding of particle physics and to bring the excitement of it into their classrooms through inquiry-based instruction. The Virginia Tech QuarkNet Center was the educational/outreach component of the NSF CAREER Award of Prof. Camillo Mariani
NuSTEC School Spreads Understanding of Neutrino Interaction Physics
The first
NuSTEC School
was held at
Fermilab
from October 21
st
through 29
th
, 2014. This event was sponsored by Virginia Tech's Center for Neutrino Physics and co-chaired by CNP's Prof. Camillo Mariani. NuSTEC, which stands for Neutrino Scattering Theory Experiment Collaboration, hosts school which is intended to be an annual event. The NuSTEC School is for PhD students and postdocs who are interetsed in the the theoretical and experimental aspects of neutrino scattering. In all 85 students attended lectures and recitations intended to develop a theoretical background on the physics of electroweak interactions with nucleons and nuclei. The program included 33 hours of lectures and 12 hours of evening recitations encouraging questions and discussion on all of the day's lectures. It should allow the participants to understand recent developments and to contribute to this field, which has become very important for the future of neutrino physics.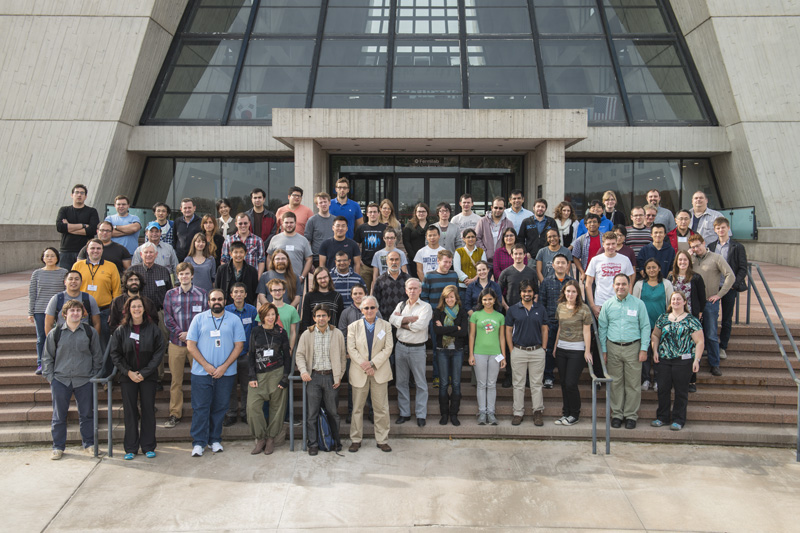 NuSTEC School Participants